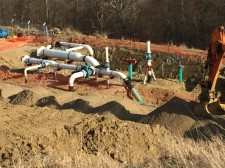 You can choose to embrace it or ignore it. You can choose to pretend it does not apply to you. But the one thing you likely will not be able to do is work as a pipeline inspector without it after 2018. What is it you ask? It is the American Petroleum Institute Pipeline Inspector Certification; better known as the API 1169. Possibly a thorn in the side for many inspectors but for the industry it is a sure step forward in the right direction; joining the other sectors of oil & gas.
Confusion, rumors, and misinformation completely surround the process that is involved in order for an inspector (prospective or existing) to obtain their certification and what the certification actually represents. Potential test takers should be wary of whom they accept advice from, as many have been simply speaking from what they heard somewhere - as opposed to actually knowing details from experience.
We met with several of the best training providers that currently prepare inspectors and individuals that are scheduled to sit for one of the upcoming API 1169 exam "windows". There is a two week block of time set aside in November 2016 with the next two week testing block set in April 2017. It appears the API 1169 exam is currently held only 3 times a year. "Many people are under the impression that they can sit for the exam whenever they have some time off work or at their convenience. While that would be fantastic, this is not reality. The American Petroleum Institute currently offers 17 different certifications that range from above ground storage tanks to pressure vessels to corrosion mechanisms to pipeline. Each certification exam is available during windows, or blocks of time, typically each 2 weeks long throughout the year. All individuals wanting to sit for a specific exam must submit an application through the API.org portal that includes their education, experience, references, and other qualifications. All applications are then vetted and approved or denied," said Matt Wearsch, a consultant and lead developer for Velocity Training: Education Solutions (or VTES™ for short), when we asked him about the API 1169 exam process. Mr. Wearsch is also a Certified Pipeline Inspector through the American Petroleum Institute; one of only 400 currently in the United States.
The number of certified inspectors is still relatively small, with only 549 currently certified world-wide. However, that number has been steadily growing as the mandated deadline in 2018 set by INGAA and CEPA for their member companies to employ only API 1169 certified inspectors is quickly approaching. CEPA is the Canadian equivalent of INGAA in the United States. According to the API website, "as of 2016 the 1169 examination has been updated to address specific industry-governing documents of Canada. This means that the exam is equally suitable for Canadian inspectors. ALL APPLICANTS will have access to BOTH American and Canadian (federal) references (during the exam), as identified on the effectivity sheet. Applicants can choose to study either set of documentation, and all relevant exam questions will have content that meets both sets of technical requirements." This is an attempt to bridge the gap between cross-border inspection personnel and companies that perform work in both the United Sates and Canada. "The misinformation that there is a Canadian-specific API 1169 exam or that Canada is the main driver behind the API 1169 is completely false. All inspectors that attempt the 1169 in all the 16 countries where it is currently hosted have access to the same reference regulations during the exam," said Jessica Krueger, VP of Media Relations at Velocity. "It is our job to guide the applicants in the proper direction of what to study and how to adequately prepare themselves for the exam. This typically means that the Canadian applicant will have to study U.S. regulations and codes and that U.S. applicants will have to immerse themselves in the aspects of pipeline construction they are least familiar with; usually environmental specifications and quality management processes," Ms. Krueger continued.
Another misconception, making its rounds on social media and other networking sites, is that the API 1169 exam is a "fad" or another "fly by night" certification that will be eventually ignored or dismissed by the clients and service providers that utilize the services of pipeline inspectors on their various projects. When asked about this during our interview, Mr. Wearsch briefly smiled. "There are those that believe they can simply deny or downplay this certification and the industry will listen. These individuals assume they know who the American Petroleum Institute is and is not. While it might make these people feel better about themselves when their friends or others agree with them, it will not change the direction for the industry in embracing this certification. API is not a small deal. They are embedded in the industry and drive policy in Washington D.C. They have been around since 1919 and they speak to the public, Congress, and the Executive Branch of the United States government for the oil and natural gas industry. They negotiate with regulatory agencies, represent the industry in legal proceedings, and participate in multiple coalitions," he said and continued, "The API 1169 is not going anywhere." Individuals can read more about API's involvement in the industry by visiting their web site at www.api.org.
The people at Velocity Training were also kind enough to break down the lengthly certification process for us below.
How To Apply for API 1169: Individuals can either go to www.mypipelinetraining.org and look for the button to "Start Your API 1169 Application now" or they can go to api.org and look for the Individual Certification Programs section. Applicants should prepare for the application by gathering all certification documents, their high school diploma or GED, and degrees. They should also collect their reference contact information from their previous employers and ensure each person has an email address for the company they represent. Email address that end in @gmail.com or @yahoo.com or other public domains are not accepted. Applications must be submitted by the appropriate deadline for their specific exam window.
What is the Cost for the Exam?: The exam application fee is separate from the training fees and will cost applicants either $300 or $400 depending on whether they currently work for an API member company or not. Before they apply, applicants should contact their employer to check on this information.
What do inspectors need to study for the API 1169 exam?: All individuals planning on taking the exam should study all the documents and general information topics listed in the Body of Knowledge and the effectivity sheet. A common misconception is that test takers only need to study the API 1169 RP (Recommended Practice) document. This RP references multiple other publications, codes, and standards and, while it is important, it is only a small portion of the required study material. Inspectors will only have access to the federal regulation documents for the U.S. and Canada during the exam. All other publications will not be available for reference.
Training Costs: Training courses are offered by multiple companies. Some are decent. Some are not. Applicants should select a training company based upon past performance, overall cost (travel, time off work, class fee), instructor availability, and the length of training offered - to name a few. Courses are offered online, in person, or in a blended format; allowing for individuals to make a choice based upon preference. Students are cautioned to not choose the class offering the training in the least amount of days. A 3 or 5 day training course by itself is an extremely short amount of time to fully grasp the extensive topics effectively. Students should also ask companies about their policy regarding failing the test and see if the company offers a guarantee program or other policy to ensure the inspector receives additional training at no cost.
VTES™ offers a 100% guarantee to students and enrolls them into another training program for free in the unlikely circumstance that they fail the API 1169 exam. All API 1169 training courses offered through Velocity Training are also qualified to be applied towards the AWS CWI recertification professional development hours requirement and are worth 40 hours. Individuals can view their available training options by clicking HERE.
Share: